---
TORREMOLINOS
Last updated 15-August-2004
As mentioned in my main Spanish report web page, we had a 10:00am morning flight out of Malaga, and we did not want to have to get up real early, nor have to drive very far to the airport. So after looking at a map of the area, we came to the (correct) conclusion that Torremolinos must be close to the airport.
Torremonlinos (like much of the Costa de Sol) is described as a concrete high-rise jungle by many sources, and we didn't see anything remarkable to dispell that opinion. One of the few historical sites of Torremolinos is an old Islamic watch tower, and we wandered by that on our way down some rather narrow walking streets and paths, on the way to the beach.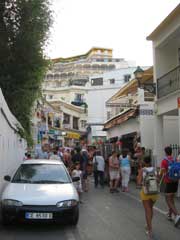 Torremonlinos beaches are purportedly wider, longer, and a paler shade of grey-brown than most on the Costa del Sol. They purportedly can get very crowded, although at 6:00pm when we wandered down to the beach, while still partially populated, they were not as crowded as I anticipated they could be.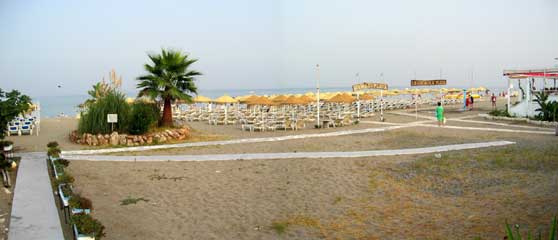 NIGHTLIFE
According to Lonely Planet, most of the night life club action has moved westwards to Benalmadena Costa's Puerto Deportivo (marina) area. We didn't bother checking that out, but rather from Plaza Costa del Sol (where our Hotel was located) we wandered downhill along Calle San Miguel in the direction of the beach. We noted there were some clubs/bars around Plaza Costa del sol, and also around Avenda Jesis Saint os Rein area, which was also a bit of a plaza. Again, we retired for the evening around 11:30pm, just when it appeared things were starting to pick up.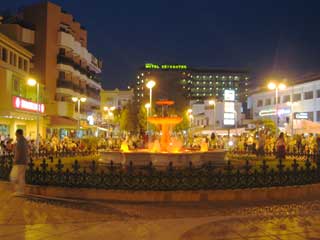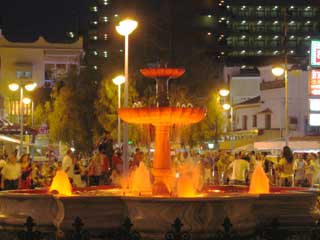 Map of area close to our Hotel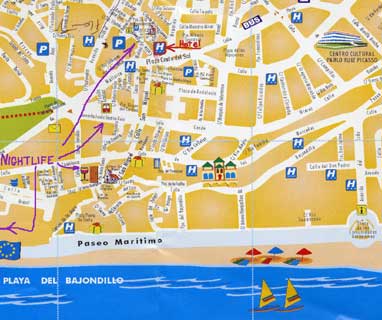 Click on above map for higher resolution view.
---